So, clearly in the world today we're all a little obsessed
with varying things. Brad and I are not immune from this.
Believe me.
Currently our obsession is a television show. One which
we gush about to just about anyone who will listen.
Unfortunately, most people think we're crazy. We don't blame
them, of course. When my family first put this show on I
believe my question was, "Really, we're going to watch this?"
However, I was wrong.
So, so, so wrong.
Literally, one of the greatest shows we've ever watched.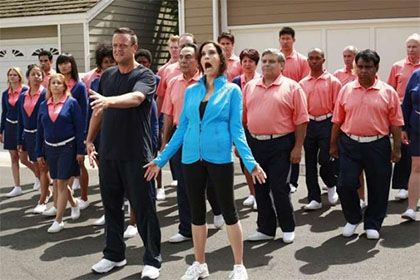 Behold, The Neighbors.
It's a family comedy on ABC that highlights the events surrounding
a human family moving into a builder grade subdivision completely
overrun by extra terrestrials.
Which sounds horribly stupid, right?
Well, that's what we thought.
WRONG.
It's amazing. It's hilarious. It's clean.
And, oh yeah, freakin' hilarious!
And really, the premise should not work. But it does.
This is probably due to its amazing cast as well
as a willingness to do hilarity in so many different ways.
Heck, there's a running alpaca joke.
There doesn't seem to be that sticky situation of
getting stuck on the whole "family values" part
of each episode. There's always a willingness to
let it get weird and funny, which we love.
I could not bleed enough superlatives to describe this show.
It's that good.
However, don't get me wrong. Every comedy has
work to do following its first season. But I think that
Todd VanDerWerff
put it
best when he said:
"The Neighbors is funnier than it has any right to be."