So, Jorge was blessed in church this past Sunday. We were really,
really
hoping that he'd fart during the blessing (with a microphone there to magnify it), since the few times we've been able to make it to sacrament meeting in these first months that seems to be his thing to do during the quietest moments, which we always find to be hilarious. However, no such luck this time. He was fussy all morning, but the minute Bradley picked him up to take him to the front of the chapel to be blessed, he was silent and sweet. Brad said that he just stared at everyone in the circle as he was being blessed, super happy. (But no farts, darn it.)
That whole morning was a set of fiascoes, however. Not just George being fussy and constantly needing to be held, but also everyone in the house running a little late! The same day as George's blessing was my little brother's farewell talk for his mission, and we were having a brunch of sorts at the local park's pavilion following sacrament meeting, and so everyone was running around not only getting ready for church, but trying to put all the hoo-hah together for that, and then there's this cute sad baby needing some love, so my mom and my sister made it just as sacrament started and Brad and I barely made it to sacrament meeting by the beginning of the opening song. Not to mention my dad also had to prepare his lesson for Sunday school, and then he couldn't find his keys, so he ended up walking in just a minute too late to be apart of the circle blessing George. Phew, it was a mess, but it all worked out just fine! Luckily none of it was a big deal; Brad and I were there just in time, and my dad at least got to watch George be blessed, so nothing really to be upset over. But hey, James was on time, so he's better than the rest of us!
Overall, it was a stressful morning, but once Brad started blessing George the whole basket-case morning sort of melted away for a moment. It was amazing to hear him blessing our son; it seriously felt like he was talking to future George... if that makes any sense. It just felt like he was talking about our little boy as he would become a big brother, friend, and eventually a husband. Brad talked about how he would follow the example of his uncles, as well as how he would become an example and benefit to his friends. He blessed him to find a wife worthy to go to the temple with him and basically painted a vague picture in my mind of how our son was going to grow up and what he would eventually become, and it made me cry because it was wonderful. It was everything I wanted for George to become and learn in his small time in our hands before he became a man, and I knew that it could happen if he wanted it to and was willing to make the right decisions, to love and follow our Savior and His teachings. It really made me want to be the best parent I could be, to be better every day so George could see that and want to do that as well. The blessing was beautiful and it was a perfect moment on a very crazy Sunday morning.
After that my amazing little brother spoke on becoming Christlike and man, my little brother knows how to speak as well as speak by the Spirit. I had promised myself that I wasn't going to cry during James's talk, and I was doing
amazingly
until that stink-butt threw out the Winnie-the-Pooh-make-you-cry-instantly quote at the very end of his talk:
"How lucky I am to have something that makes saying goodbye so hard."
Yeah, that had me, my mom, and Alix sobbing uncontrollably in an instant. Basically, let's never talk about that kid leaving, because I don't know when I'll (if ever) be getting over that. He leaves next Tuesday for the Mexico Missionary Training Center; he'll spend six weeks there and then he'll be off to teach the Gospel to the people of Chile! He's going to be such an amazing missionary!
Like I said, afterwards was a brunch of sorts at a pavilion at the local park. George was overloaded with many relatives and friends wanting to meet him. Here's him hanging out with his favorite butt-patter, Aunt Alix!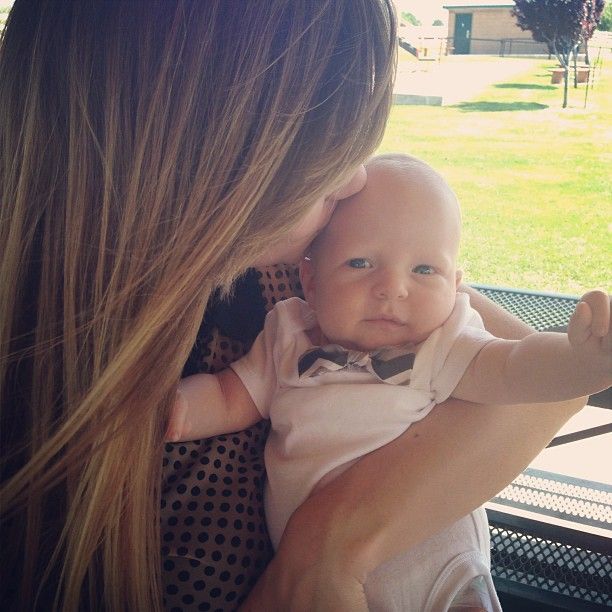 He was originally in his cardigan and bow-tie from his one-month photos, but he had puked on it in sacrament meeting (but he was sweet enough to wait until after the blessing; he's thoughtful like that. Seriously). And since it was warm outside anyway, we just switched him to a onesie and bow-tie. You know, corporate casual. For babies. Or something like that. Basically, he's just super cute, no matter what he wears, even if there's puke on it.
Also, since this was James's farewell Alix was smart enough to mark sure we got a picture of all of us siblings. (Yes, we are a majorly attractive group.)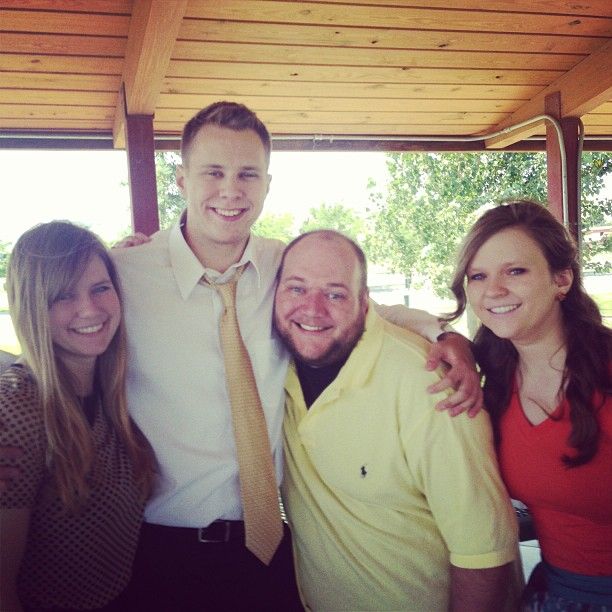 Big things are ahead for this family of mine. I love you James DeMill! Chile is lucky to have you!
(P.S. Speaking of big things for this family, my nephew turned sixteen today. Where did that come from?! He's way too handsome. I don't think I'm cool with him going to high school and dating and such. Those girlfriends better watch out... he's got two aunts ready for a beat down, especially with their little brother gone.)

(P.P.S. Today George did his first real laugh. He was chilling on the bed while his dad was on the computer and I was brushing my teeth, and he just did it--he laughed. Brad and I were quiet for a second and then we looked at each other and I said, "He laughed," and then we started laughing, because it totally sounded that he was doing something mischievous. It was awesome!)