Our Gorgeous George got his "newborn" pictures done today! (Yeah, he's a month old, little slow on the uptake over here.)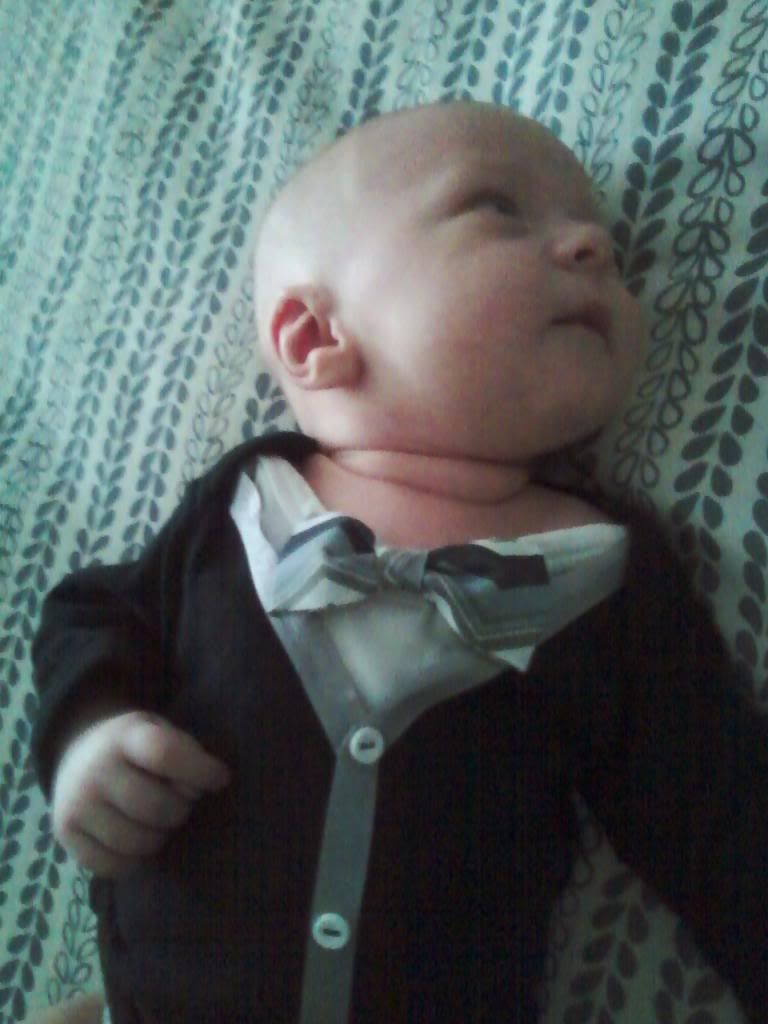 My mom and I totally jimmy-rigged all of his outfits, including his cardigan/bow-tie set-up above. I seriously made that bow-tie with double-sided tape and the tiniest amount of sewing because I have zero sewing skills whatsoever. So yeah, that's how we do "sewing" projects in the Anderson household, what-what!
When we got to my wonderful neighbor's studio in her home, George zonked out while we were discussing the desired set-up for each look. This was good because he was chill enough to allow us to set him up for a classic, sleeping-all-bunched-up-on-his-tummy shot. He was also in some makeshift suspenders for that shot. SO CUTE.
After that we positioned him to be sitting up on the couch that he was laying on in the first set of pictures and he woke up and was busy, busy, busy from then on. He has always been the best wiggler, even in the womb that kid had moves that he could not be holdin' back! So yeah, it was slightly hilarious but also a little worrisome when we had him up on a non-cushy chair. The kid has this crazy semi-suicidal move where he throws his head to
one side randomly, scaring the hoo-hah out of everyone around.
Must always been on the watch with this one and his neck.
However, being Gorgeous George is tough and therefore was eventually exhausting and warranted some fussiness. This is no disappoint for us, though, because we absolutely adore his grumpy face anyway, so it was nice to get some shots of him frowning! (Wow, I sound like a terrible mother, wishing frowns upon this kid. But seriously, the cuteness is unbeatable!)
One great shot that she showed my mom and I was of him in his Spider-Man onesie (had to get a shot him in that, of course. Hello, do you know who this kid's father is?!), sitting in a black chair and just being horribly sad about it. So absolutely cute!
After that exhausting day, George of course needed to take a load off like any man would... by stripping down to only his socks. And chilling on Grandpa's stomach. (That's the only way to really relax, so I hear.)