Being a mom is amazing. However, it's an entirely different life than being a wife alone! Wife and mother- whole new ball game.
These things have made being a mom a much smoother process.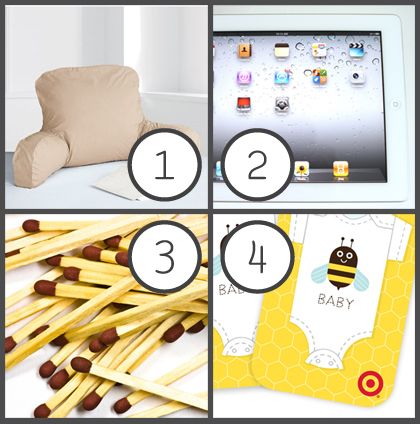 (1) Reading pillow. Seriously. Only, sort of used backwards. I lay it on my lap to be used for nursing. Super awesome late at night when there's a chance that I'll fall asleep while feeding George, then I have no fear of him falling! (2) iPad. Again, so great for while I'm nursing. I can just lay it across the top of the reading pillow and surf the web or read; it definitely makes the late hour much easier to handle. (3) Matches. Um, yeah, he reeks sometimes. His diapers, that is. When I don't want to run a diaper out, I can put an extinguished match in it and it gets rid of the stank. (4) Gift cards. For those millions of diapers we need!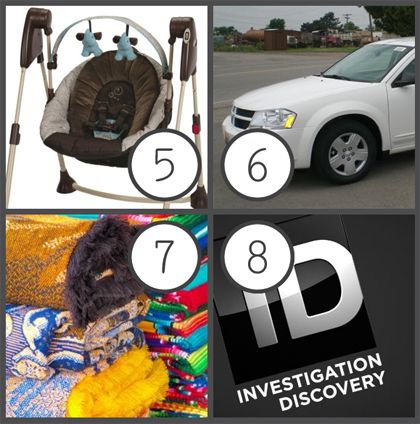 (5) Baby swing. This kid loved being swung in his car seat, so we knew that the baby swing would be a winner and were happy to use an entire gift card on one. Bundle him up, put him in his swing, easy way to put him to sleep when he's going through that evil which we call pooping! (6) Car rides. Likes being swung in the car seat, loves car rides even more! If it doesn't put him to sleep, he just enjoys the ride. (7) Blankets, blankets, blankets. Before George was born, at my awesome baby showers, we received a lot of blankets. It was sort of hilarious to see the pile that we had at the end, but a lot were lovingly and beautifully homemade so we of course kept them all. Um, yeah, luckily we did! I had no idea how many blankets a mini man would go through in a day. I'm so grateful for every blanket and burp rag we've received, they're all well loved and well used by this kid! (8) Investigation Discovery. Love this channel. Provides great dead people shows, still showing and entertaining me at three AM!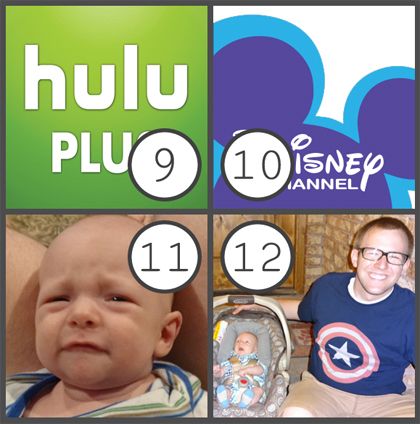 (9) Hulu Plus. Been entertained by finally finishing Heroes as well as many, many episodes of Law and Order: SVU. (10) Disney Channel. Everybody likes to say that Disney Channel has gone downhill since "the good shows", however I so disagree. I'm a big fan of The Suite Life on Deck as well as Phineas and Ferb and even A.N.T. Farm and Dog With a Blog (yeah, that one shocked me as well). It's nice to jump from dead people shows to the hilarity of re-watching the Suite Life on Deck! (11) That face! Oh my gosh, George's old-man-frown is so absolutely adorable, along with the super quiet cries that follow. My whole family has to constantly apologize to George because we'll let him be upset for a minute just so we can see that hilariously cute face! (12) Bradley. Greatest husband on this planet, and greatest father as well. He was born to be a dad, and was clearly made to be George's dad. George adores him, will not stop staring at him. Learning to be a parent isn't easy, but Brad's a great partner to learn all the steps with together.