So, turned twenty-three this year. Twenty-three still feels
so
young to me, it's crazy to think where we're at right now! Married with a baby, both of us with our degrees, ready to tackle something else. Like buying a home. We'll see how that goes.
Bradley really wanted to take me out dancing for my birthday, but the place that we go to is only open on Fridays and Tuesdays (random, yes). So, on my birthday we went to Red Lobster, a typical tradition because it's
the best
. However, in all the times we've been there and, heck, all the times I've been there since I was a kid, I had never noticed the sign at the entrance in the dining area that says, "Welcome Aboard". And for some reason I found that super hilarious and had to take a hinkerdink photo next to it.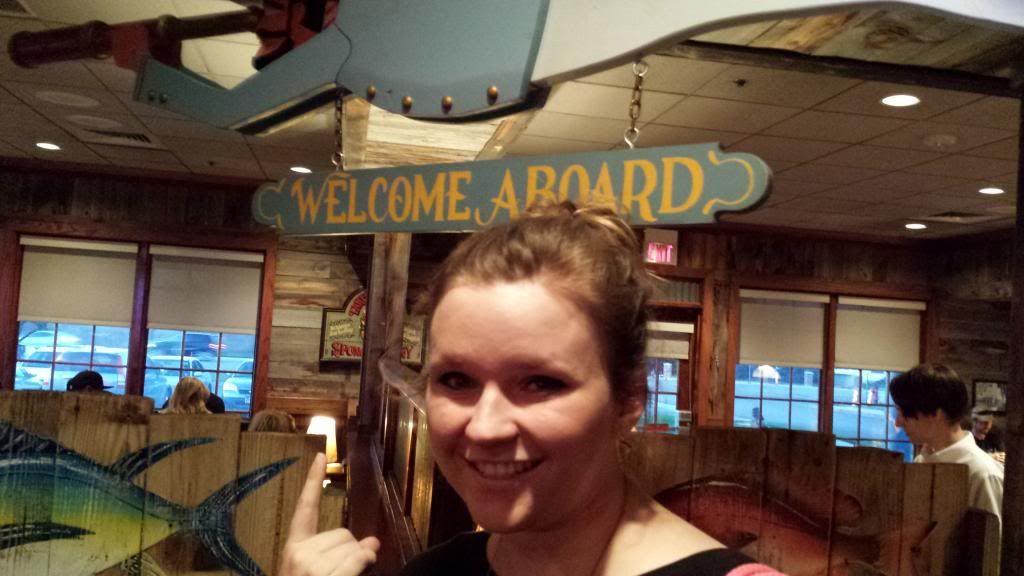 Yeah, that happened. (Sadly.)
That following Tuesday that we went out dancing. We went to the Murray Arts Center which, yes, is in the shadiest part of town (when I said we were going to Murray my dad asked, "Because you want to get shot?"). The MAC used to have a building where they hosted dancing for younger peoples and then a separate building for their older patrons, but the younger MAC was discontinued right around when we graduated high school. It's okay, we're old people with a kid anyway, right?
When I say that we were going out dancing, I mean ballroom dancing. Brad and I actually became close friends through practicing ballroom dancing together (and math class study sessions, but we enjoyed ballroom practice just
tad
more... okay, a lot more), and we've been wanting to bust out our moves again for a
long
time. So, yeah, we were super excited. And also nervous. It had been basically five years since we had legitimately ballroom danced with anyone. But we got on our "ballroom attire" (part of the MAC experience) and sucked up the nerves and went off to
shake our money makers! (Although sadly my butt has never actually made me any sort of income. Maybe someday.)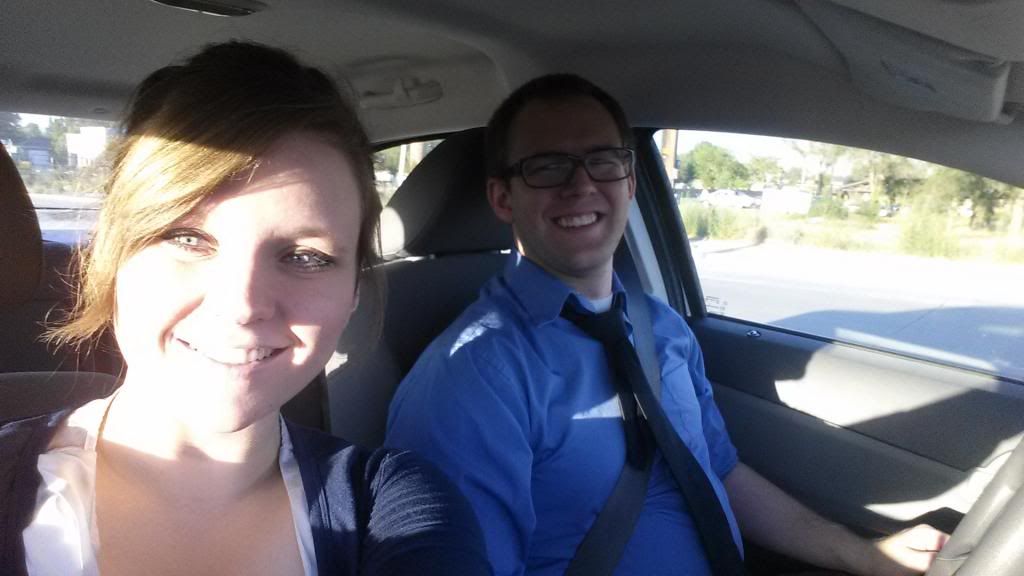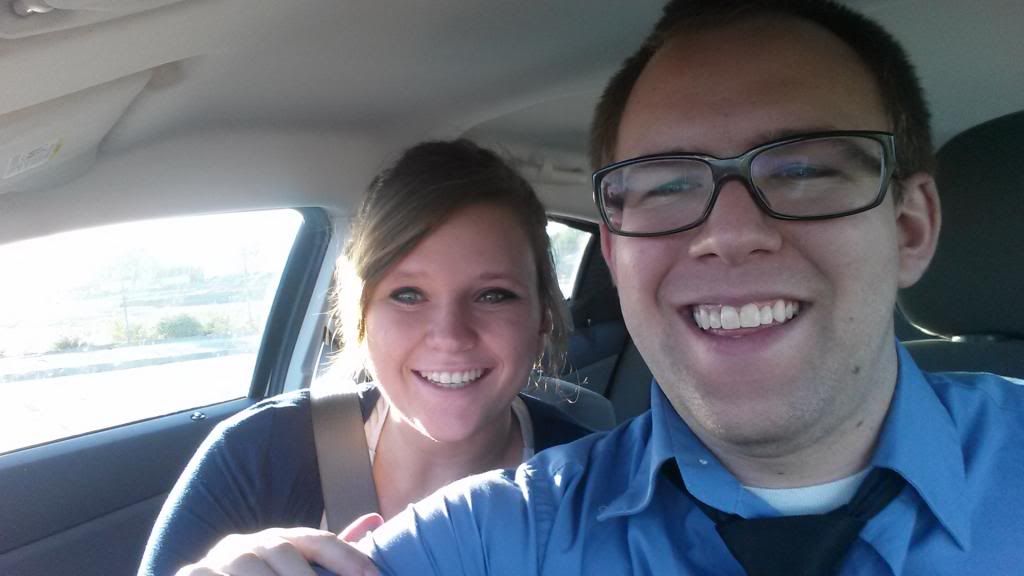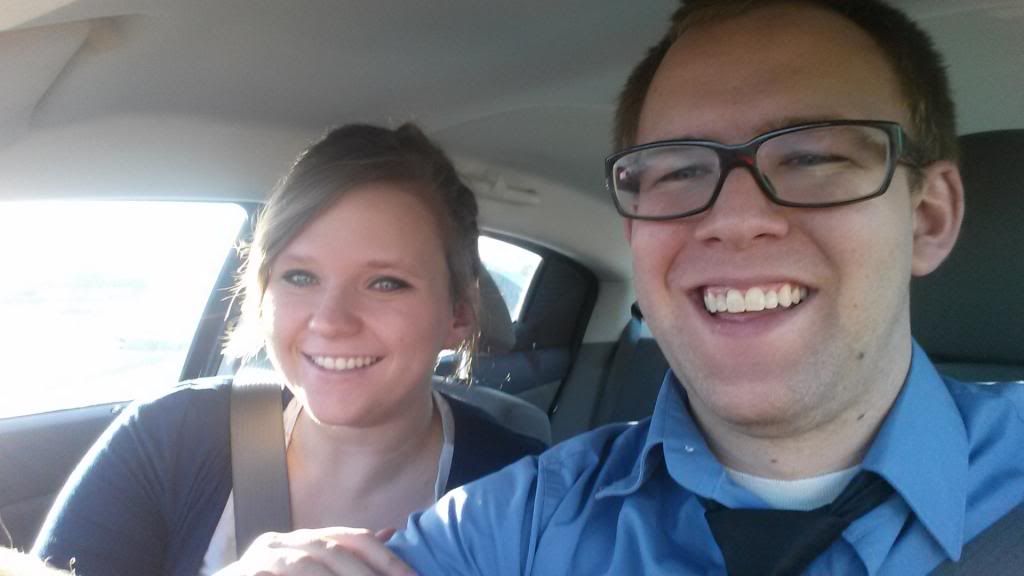 (Taking pictures at the stoplight because I'm a dangerous fool.)
The dancing goes from 8:30 PM to basically midnight, but if you come an hour early part of your admission fee covers a dance lesson as well. The options for the night we went were either samba or west coast swing, so we decided to learn some west coast because Brad had some experience in it.
We walk into our classroom and wait for the instructor to arrive. Being me, I've already imagined how the lesson's going to go, including what the teacher looks like. The teacher in my mind is a slim old woman with no chest, sporting a leotard and a flowing tea-length skirt over leggings and heels. And with her hair up in a tight bun. And possibly a sweat band and leg warmers. Or something typical to a dance movie. In walks this round woman with a super low-cut cheetah print t-shirt (with a cheetah print bra peeking out to match), spandex pants, ankle socks, and Crocs. Definitely not what I expected. Shows how great my imagination is at being correct.
She definitely knew her stuff, however, and it was a great lesson. We found out that Brad actually knows squat about west coast swing and was really one of the showy pretenders that she shook her head at when she saw it at dances (Brad's ego was hit a little bit there, haha). We had to rotate partners, just like in high school, but it wasn't as awkward as I thought. We learned a lot in there! And Brad also got hit on by the single chicks at the dance lesson. Typical.
After the dance lesson we went out into the ballroom with all the elderly couples (not kidding) and had an AWESOME time. I didn't think we'd know what to do most songs, but man! We were throwing out our tango, waltz, foxtrot, triple-step swing...
all
the moves. We were swingin', pretty much. The dance lesson was a real help just to re-learn how to make up dance moves on the fly, because we learned again how it's just all about staying within the count of the dance as well as dancing within your box that you're taught to work in for each dance. It was so fun! We definitely need practice, though. So much practice. But we were just shocked that we remembered so much of our old ballroom dances.
By nine-thirty, however, we were tired. The elderly couples totally out-danced us. We also were really missing our George, so we headed out there. But not before grabbing some drinks from a local gas station. Which, Brad talked us out of getting 44 oz. Cokes and instead we got Gatorades... which he totally regretted because he thought it'd be a good idea to get this shady cucumber-lime flavor. Yeah, it was not.
But yeah, great birthday, and we're thinking we may want to try to go dancing at least once a month! It was EPIC.