So there was this one time that Brad's parents were awesome and took the entire family to Disneyland for Chad's 50th birthday. That one time as well George was just over four months old. Would taking such a young child be insane? We found the answer to be a surprising, "no". Yep, it actually kind of rocked. However, a long time ago we decided that Disney was going to be for the kids. If we got to go on big rides, cool. If not? Oh well. There are actually a lot of great rides you can ride with lap riders! But I'm getting ahead of myself...
First thing's first, we made the decision that we would be flying to California rather than driving. We figured an hour and twenty minute flight with a crying baby would be far easier to do than hours and hours with a crying baby. Not only did we opt to fly, but we decided to just go all in and pay the little bit extra for the Extra Space seats with Jet Blue. This was sort of the greatest decision ever. Not only did we have an extra seven inches of leg room, but we also were able to go through the quick security line as well as be the first to board--even before the early "people with kids" boarding.
And yes, it was amazing. Especially the security line benefit. When my mom dropped us off we did grabbing our luggage, loading George into his stroller, checking in our luggage and ourselves, getting to security, and going through security (which included unloading George and getting the stroller through security) in less than twelve minutes. Shhhaa, greatness, I tell you. We barely got to the airport an hour before our flight and we had tons of time to kill. So we got Mickey D's and used the bathroom and all that fun stuff before we were called to board.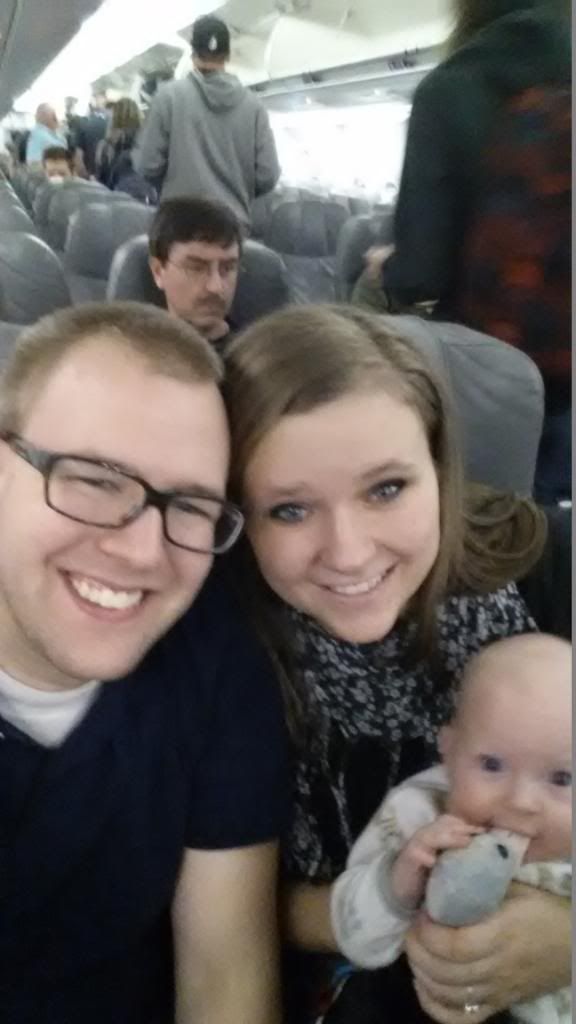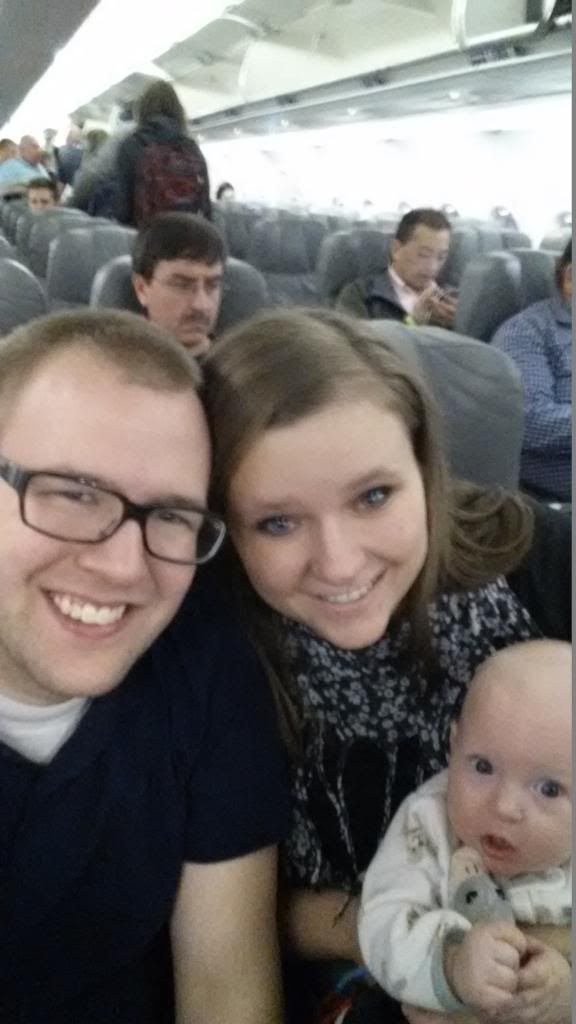 George was of course in his pajamas, classic children's fashion for flying.
George's first flight was awesome. He didn't sleep even though it was around his bed time, but he didn't scream or cry and if he got a little fussy we had the magic formula: a sucker. Literally. I had packed a Blow Pop as well as a few sugar free Ring Pops (I was attempting to appear that I cared about my son's teeth or something, don't ask, it was a weird mom moment). Unfortunately, he finished the Blow Pop and we had to opt for a blue Ring Pop. Which, as you can imagine, had him looking like a drowning victim after only a few minutes of sucking on it. But hey, it kept him happy!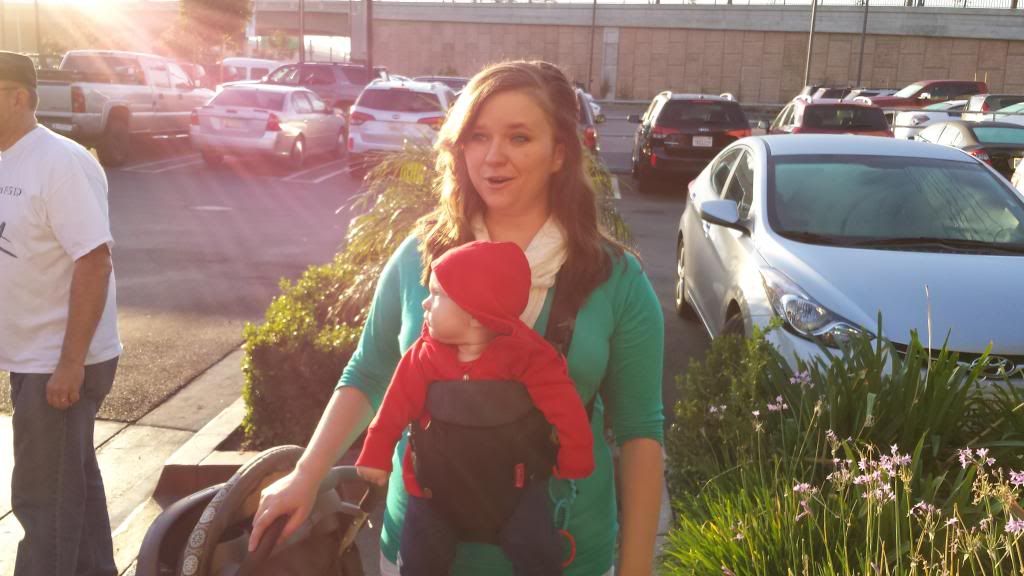 First picture in California! I look like a motard, but George looks epic "8 Mile"-esque, so I had to include it. I mean, look at the radiant beam and his sweet jacket. Yeah, he's awesome. And apparently a youthful rapper seeking out a career in Detroit.
Like previously mentioned, we actually were able to go on a buttload of rides with George, and we didn't make it to the majority of rides he could've ridden (hello, Fantasyland). What we did hit included Winnie the Pooh, Buzz Lightyear, Snow White, Pinocchio, Haunted Mansion, A Bug's Life 3D, Monster's Inc., Toy Story Mania, and The Little Mermaid. We meant to hit the rides they have in A Bug's Life Land as well as Pirates of Caribbean and even It's a Small World (because we're insane), but those we weren't able to hit as we were riding the big kid ride's as well and just trading off.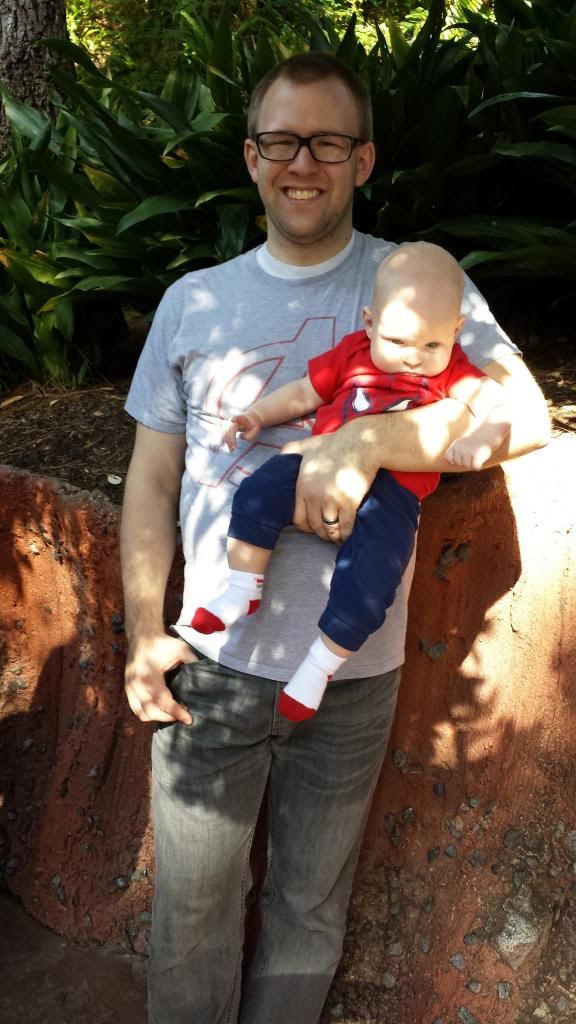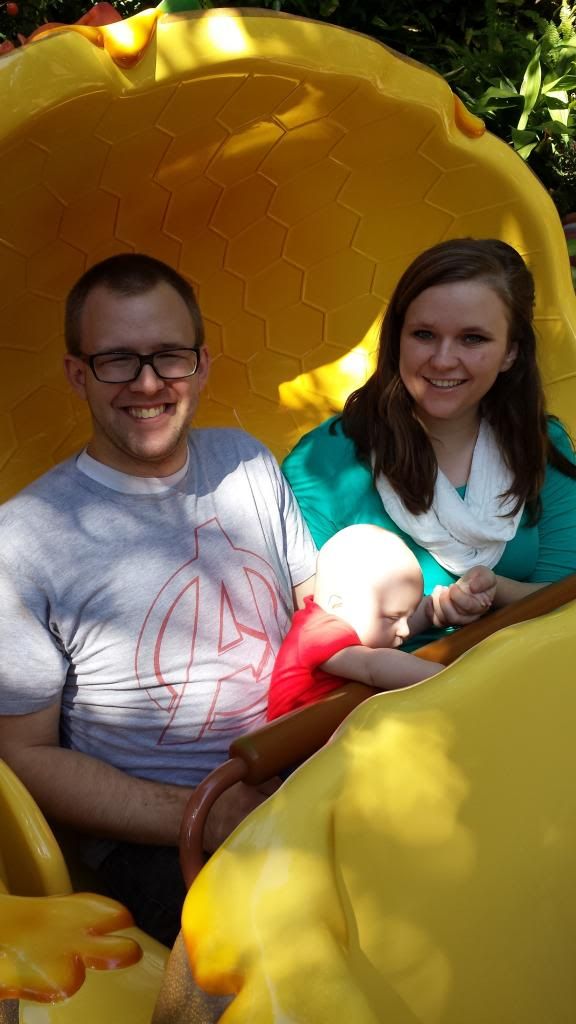 Winnie the Pooh, the acid trip, was George's very first. Like I said, acid trip.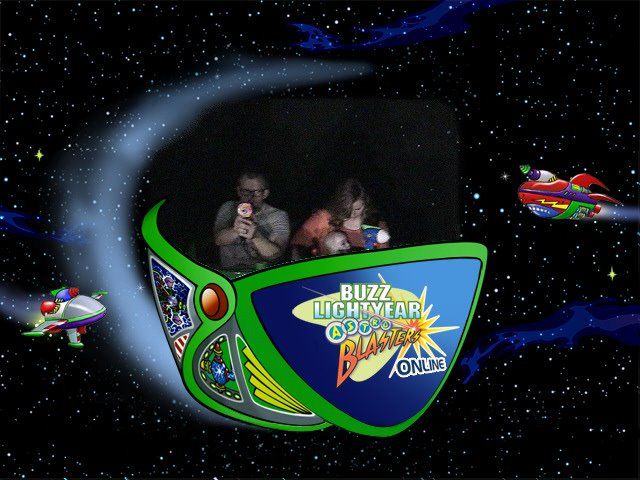 George loved Buzz Lightyear, he played with the gun the whole time. Epic.
The one thing I never realized is just how loud Disneyland is. Holy cow, the volume in those rides, it's crazy how I never figured out that they were so freaking loud. But it wasn't a big deal, I would just cover George's ears if anything was getting too loud so he wouldn't get scared. He didn't cry or freak in any of them, so that was nice. Brad joked when we were getting on Winnie the Pooh, saying, "If you can't handle Winnie the Pooh, then there's no hope for you." So true. Jokes aside, Winnie the Pooh is super mild, nothing to really jump out you or make even totally sissy children cry. Well, beyond terrifying murals of insane weasels and gasoline literary being poured onto fire in a room of neon colors and dancing elephants. That sort of made me scared.
Overall George spent a lot of time in what we like to call "the lazy skank carrier" (please view this video for reference) or his stroller, and he did surprisingly well. Yes, there were two or three moments in the four days where he was a little crazy and needed to be held, usually when he needed help getting to sleep, but otherwise once he figured out that he could grab his toes and lounge about in his stroller, he was super chill. Even more so when he figured out how to rip his socks off. Strange kid.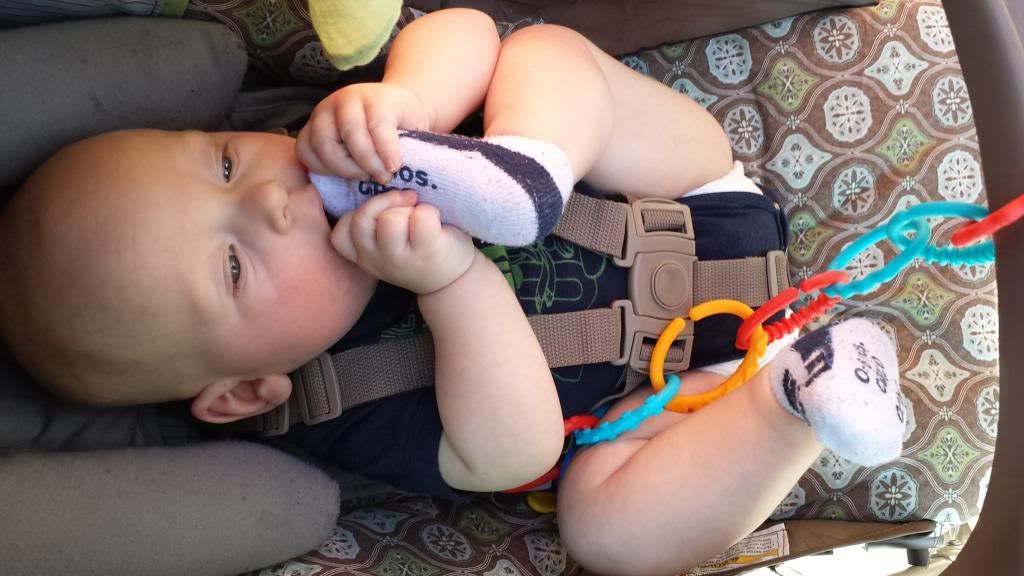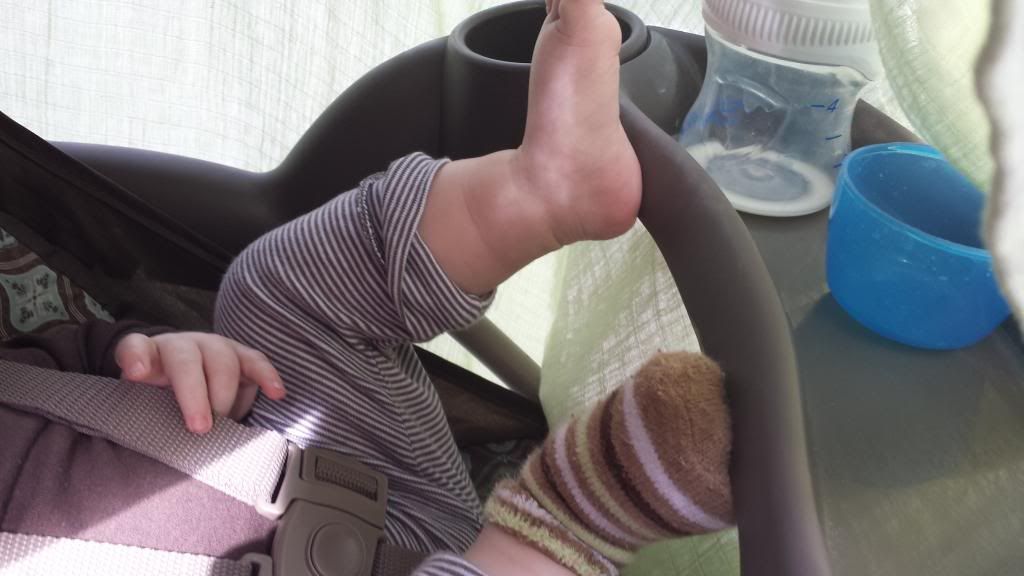 For his bottles we bought a thermos from IKEA prior to the trip and just filled it with warm water every morning. It actually kept for a really long time, it was nice! However, the very first day I was a freak and forgot to pack the formula in our backpack to take to Disney. Oops. Luckily they have baby stations in both parks, one on Main Street in Disneyland and one back on the Warf in California Adventure. We were able to buy formula from the one at Disneyland so we didn't have to run all the way back to the hotel and have our baby be starving his bottom off in the meantime. The one in California Adventure is extremely nice, however. We spent a good deal of Monday night there because we pulled an all-day-er at the park (never, ever a good idea) and George needed just a moment to lay down and play. They had a movie playing and books and a little table to play at. They also had a dark room for nursing and tons of nice changing pads. Seriously, such a nice respite! We spent about two hours there, just chilling. George napped, we watched the movie, it was really quite nice.
One thing we encountered at Disneyland was the curse of having a cute baby. I am so not a person who's like, "Hey, love talking to strangers!" but we got a lot of that at Disney. We had two Disney employees literary follow us a half a trek through the park as we went to get FastPasses for everyone. A female employee at Star Tours was chatting us up for forever while I was waiting for Brad to get off the ride, it was super funny. Oh well, I definitely learned to allow people to just giggle with him for a bit. Luckily George is a people person, because I so am not endowed with that skill. He definitely got that from his dad. At one point George was flirting with some teenage girls in line for Snow White and he totally let out this huge barf. Good one, George, that's how you get the ladies!
Innoventions was another thing we did with George that I forgot to mention. For a long time this has been one of my favorite places to go, especially when late-comers finally get to the park and overload the rides. At one point in Innoventions we were doing this little "House of the Future" tidbit where part of the experience you get to take a picture of yourself and a friend which is then used in a video tour through your chosen future home. Yeah, best picture of the trip, here's George and Brad going out of their home on a rainy day, waiting for their futuristic transportation to arrive.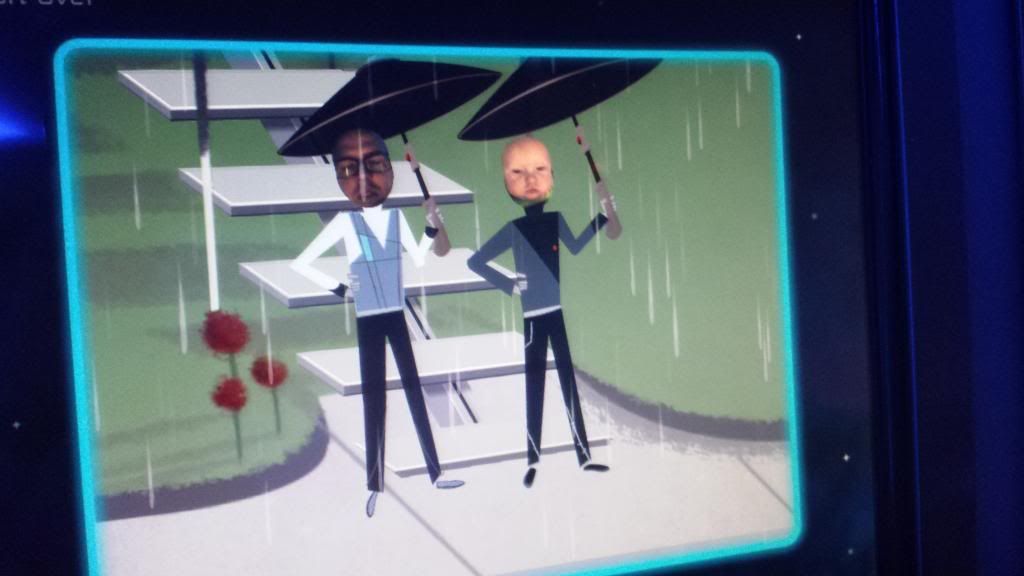 Yeah, we were dying when we watched the video!
We were also able to experience World of Color for the third time. Still great. Seriously. And George loooved it. I was afraid that the loud noises or fire or whatever might possibly scare him. But again, he proved me wrong because he just super dug that show. He even shook my hands off his ears!
Oh wait, there was one thing that made George cry. The shuttle. Yep. Sometimes we'd get a larger shuttle that would need to lower to the ground, so it'd make this big hissing and screeching sound, and it totally made George cry if we didn't cover his ears fast enough. Slightly hilarious. Also, the last day we were waiting in the huge line for the shuttle, and one toddler was incredibly upset and sobbing because he was probably exhausted. George looks at us, gets this huge frown, and starts crying too. Also hilarious.
This is possibly the longest most babbling post ever, but basically when it comes down to it the best trips to Disney are not focused on the rides, but on the experience. What really helped Brad and I to have a good time was to focus on making an experience of it, especially for George. We were incredibly grateful to family who offered multiple times to watch George while we went on the bigger rides, and it's definitely recommended to take family or friends if you're worried about getting yourself on those! But honestly, we would've had a great time whether we went on the big ones or not! Because, seriously, just like I wrote about going to Disneyland while pregnant, there really is just so much to do beyond the rides that everyone seems to get so focused on. You're never going to enjoy Disney if you're not there for the experience!
We're so grateful to Chad and Michelle for paying the expense for such an awesome place for a family trip, and we were so happy to experience Disney for the first time with George!