So, I know I've mentioned this before, but I'm working hard to get into gear and figure out this stay-at-home mom, full-time homemaker thing. Again, probably repeating myself, but it's still strange to see the messes that
I'm
constantly making and how that is increased when I'm at home all day long! When there was work and school, there was far less time to be home and mess things up.
And also, I've noticed that went I keep things at least appearing neat, it encourages me and Brad to neater. NEAT. So yeah. Work in progress.
I think it all comes down to finding a place for everything, and that's what I'm working towards. As long as everything has a place to go, then it's easy to put them away, right? RIGHT?! Maybe?! Who knows. It's all an experiment, really. There's no job training sufficient for being a stay-at-home mom. It's sort of a steep learning curve; let's just say I'm super grateful that I've spent the first part of motherhood living with my mom.
But yeah, getting better at the homemaker thing. Although, this is my version of it. Carting the clean, folded laundry (that's been in the living room for a decade... cough, cough) in the stroller to our bedroom. Epic.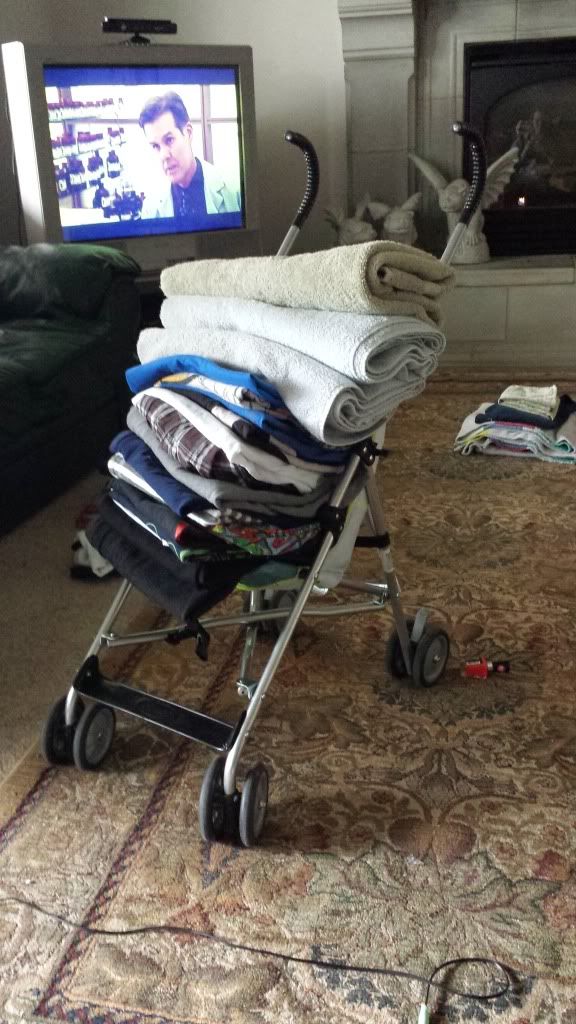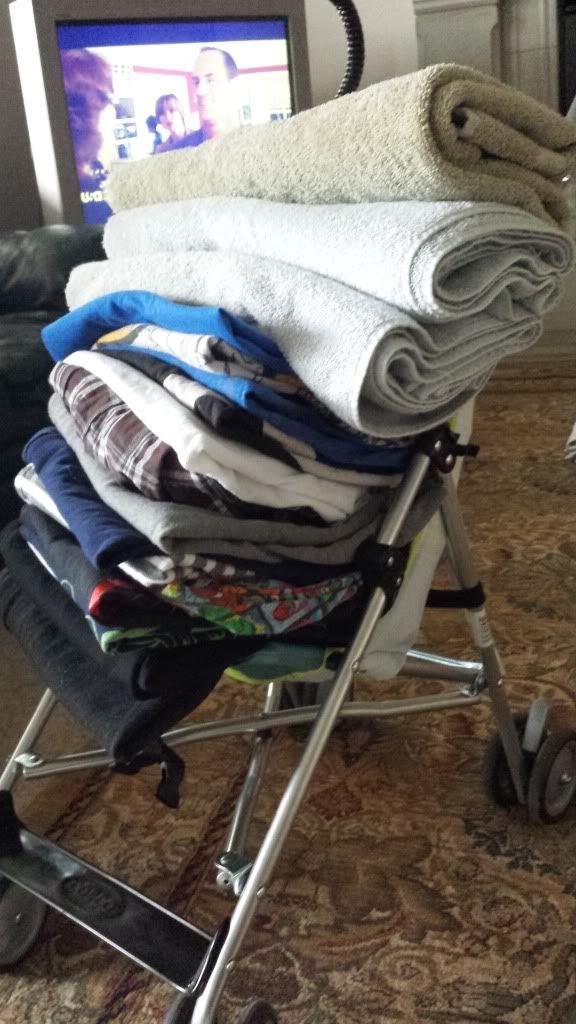 P.S. See that giant, old TV in the background that my family has owned for probably thirteen years now? It's still chuggin' along, its colors have just sort of dulled but other than that it's completely functional. Well, anyhow, totally got a new 40" flat screen for a crazy discount from a warehouse because the box had been opened. Yeah, awesomeness. We've now been enjoying it for a full day and it's a beauty. It totally passed the watching-Harry-Potter-on-ABC-Family test--seriously, beautiful. LOVE IT.
P.P.S. Yes, that's SVU reruns in the background. I will never tire of that show!